CSI came to a conclusion that the testing would still be possible through a fabricated bracket that would allow all four anchors be tested at the same time with a combined force. (So 5.5kN x 4= 22kN).
LOCATIONS
16 brackets were tested on the 10th floor.
CSI extended the existing anchors with a coupler through the fabricated bracket. Then attached a bridge to the bracket, attached the RAM against the bridge and used the bridge setup up to the ceiling past the anchors to perform the pull test.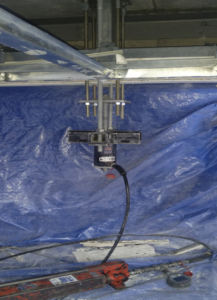 Any questions? Contact the CSI team or Request Estimate to find how our services can help to ensure the safe and effective operations of your projects.