Science Direct talks about the two main methods for Crack Detection more or less in this way:  Cracks on the concrete surface are one of the most identifiable indications of degradation of the structure.  Following up these 'markers' is critical for the maintenance (of the structure), continuous exposure can lead to severe damage to the structure and the environment. Manual inspection is a common method for crack inspection.
Using manual inspection, the sketch of the crack is prepared manually, and the conditions of the irregularities are noted. Since the manual approach completely depends on the specialist's knowledge and experience, it lacks objectivity in quantitative analysis. So, automatic image-based crack detection is proposed as a replacement. The following presents different techniques to automatically identify the crack and its depth using image processing techniques.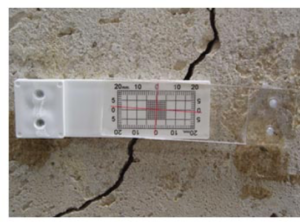 As you can see from the image above, manual crack measurement cannot provide great detail.   In recent times CSI has been asked to price crack monitoring for bridges in particular.   By far the most reliable and informative test method is dynamic digital measurement.  Slight fluctuations with load bearing over a bridge can be recorded.  This gives much more detailed information about what the structure is handling and how the load is impacting upon it.
There is also a much higher chance in manual measurement that the crack monitors will be interfered with in some way. Often manual crack monitoring systems need to be placed in out of the way places, which means the need to get access for each inspection adds expense and inconvenience to the monitoring process.
With digital monitors, it is possible to affix them at the beginning of the process, and not have to visit the site repeatedly to take measurements.  This is particularly useful for 'out of the way' locations.
Needless to say, CSI offers many different services to help with testing the integrity of your structures – for a conversation about crack detection or any other NDT requirements feel free to drop us a line here.
Phone: 0800 33 77 67 or email: info@csiscan.nz