We were recently updating the CSI Capability Statement and it crossed our minds that it's not all that clear to everyone what these are and their purpose.  In its simplest form, a Capability Statement is a marketing statement about your business and its capabilities and skills.  They help inform potential clients about who you are and what you do. However, Capability Statements must be tailored to your industry.
Why would a company put together a Capability Statement?
Often companies have to demonstrate their organisational capability when tendering for work.  It is a company's ability to manage resources, such as time or finances effectively – that will gain them an advantage over competitors. A company's organisational capabilities should focus on the business's ability to meet customer demand.  This is particularly important when a client must make a decision on a Contractor to employ for a large tender.  They need to have confidence that the Company or Contractor they employ can competently see the job through to completion.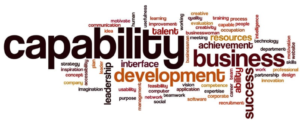 Capability-based strategies are founded on the basis that internal resources and core competencies derived from distinctive capabilities (such as in CSI's field of "non-destructive testing") provide the platform that underlies a firm's long-term profitability.  This means that a potential client can have confidence that the Company or Contractor they employ is going to be in business for the duration of their project.
We have all noted big project failures around NZ that have resulted in considerable grief for many parties when projects are halted due to major Contractors going under!
Essentially, the capability model demonstrates that the company has the power to realise it's complete set of abilities (employees, resources and otherwise) within the company.   i.e. the capabilities an organization requires to execute its business model or fulfill its mission. An easy way to grasp the concept is to think about capabilities as organisational level skills embedded in the company.
Which brings us back to what kicked off this blog topic in the first place.  Due to the requirement of potential clients to review a Capability Statement before deciding which Companies to employ for their projects, CSI has put together their own Capability Statement document that can be easily accessed on the website.  Click on the cover page image below if you are interested in having a look.
We'd love to hear your feedback and thoughts on the CSI Capability Statement or indeed Non-Destructive Testing in general.  Contact the team at CSI on 0800 33 77 67 or email: info@csiscan.nz