It is now just over 6 months since a 7.5 magnitude earthquake struck the island of Sulawesi, Indonesia. The quake was located approximately 77 km from the provincial capital Palu and was felt as far as 556km from the epicenter. The quake was followed by a localized tsunami. The combined effects of the earthquake and tsunami resulted in at least 2,100 deaths with many more feared missing.
Designing structures to withstand tsunami load
After a moderate to large earthquake, a tsunami warning may be generated. It is natural for residents to look for a way to evacuate after this warning. There are two options; getting out from where you are to the safe zone or staying inside where you are but getting higher up where the height of the wave won't reach. Both options share the same message; get to the high ground.
To the best of our knowledge, only Japan and the US have a robust scheme that allows its residents to evacuate inside structures during a tsunami. Japan has structures specifically designed for vertical evacuations, the US has building standards for it.
What about New Zealand?
The tragic event in Palu should become a wake-up call to New Zealand. New Zealand does not yet have its own building standards for vertical evacuation structures nor structures specifically designed for vertical evacuation. Studying Figure 2 below more closely, the map indicates that the east-facing coasts of the North Island and the southwest corner of the South Island are the areas exposed to the highest intensities of tsunami hazard, with a probability of 10-12m maximum amplitude (tsunami height). Considering that most buildings within these areas are less than three-stories high, we have to admit that evacuating inside the building is not the preferred option.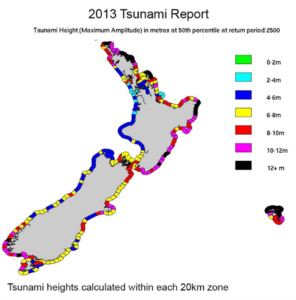 Staying inside a high-rise building may be a better option in some circumstances, as people may feel uncomfortable leaving their buildings and making their way through the streets, possibly in the dark and with damage from an earthquake. A New Zealand building standard for vertical evacuation is being investigated by  MBIE and it may be found that some buildings already meet the standard once it is determined.
CSI, a vocal proponent of non-destructive testing and a member of the Natural Hazards Inc, would be proud to contribute to this initiative by ensuring there are safe, functional structures in the wake of a disaster, particularly a strong earthquake and Tsunami. We believe our services offer invaluable opportunities to reduce casualties, whether we're in New Zealand or overseas.
Download and read the full report into the lessons from the Palu Tsunami in the CSI Premium Login Section – note: you will need to register and login to access this premium content section
Register for Premium content here
If you have already registered then Login for Premium content here