Recently CSI has been privileged to have the opportunity to meet with engineers from both Beca and BGT Structures in Auckland.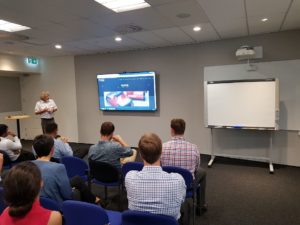 Although these very well attended meetings were technically 'presentations', they ended up being conversations.  With dialogue back and forth about the challenges facing construction and the engineers' challenges in ensuring construction compliance with NZ Building Standards.
Due to some crises in construction, it has been great to understand challenging issues from the perspective of the engineers.  It is also a great opportunity for CSI to share with some of our findings, which many of the engineers found quite sobering!.  In collecting non-destructive testing (NDT) data CSI has come across some pretty confronting situations.  Most of which, we believe, can, unfortunately, be put down to poor construction.  Although this is not the only purpose of NDT; it is of course very useful for assisting in the retrofit of buildings (applying fixings and fittings accurately). Also, we find NDT can actually save clients' money by allowing them to better understand the actual state of their building.
CSI is committed to continuing to meet with NZ engineers and look forward to more of these types of presentations/meetings.  We hope, that due to this dialogue, there are more conscientious efforts overall across several fields including:
Rigorous checking of construction compliance during construction
Ensuring plans are followed
Rigorous checks of existing structures – and most importantly
Compliant construction from the contractors themselves
It has been our pleasure to have these discussions with large groups of engineers. As well as providing CSI with a forum to share what is possible in the non-destructive testing field (both for QA on new builds and integrity testing on existing structures), it has also been enlightening to hear of the obstacles engineer's often have to overcome.  The more informed we are of one another's roles, the more effectively and efficiently we can work together creating a culture of continuous improvement across the NZ construction industry.
Watch this space for a more comprehensive paper on what we believe has gone wrong in construction over the past 40 or so years, in our opinion.
If you have any questions or would like to book in a presentation with the CSI team feel free to get in touch with us anytime.
Phone
North Island – Central and North, Auckland: 0800 33 77 67
Greater Wellington region and South island: 0800 30 20 20
Email
Old School in person or by post!
Wellington: 230 Cuba Street, Te Aro, Wellington, 6011