We are delighted to share with you that we recently had the honor of hosting the Natural Hazards Inc Cluster Meeting at Concrete Structure Investigations Ltd (CSI). Our team was thrilled to welcome experts in the field and engage in insightful discussions on the latest developments in the industry.
The presentation generated a lot of interest and sparked a productive dialogue among the attendees. We look forward to continuing our collaboration and sharing our insights with the community. Read along to find out more!
Cluster Meeting
Our topic for the presentation was:
Attendance at the Asia Pacific Conference (APCNDT) for Non-destructive Testing (NDT) in Steel and Trying to answer Those Big Questions
CSI attended this conference to look at how a highly regulated NDT industry operates; albeit this is NDT of steel (not concrete). The conclusions drawn were really that the NDT concrete industry urgently needs regulating as well; with all of the training, qualifications, certifications, expert review and currency that is going on in steel.
Also, NDT in concrete is only as good as the operator/s. Being expert at driving the technologies is the key to accurate data being delivered. In the steel industry, R&D and sharing of knowledge amongst those working with the technologies every day of every week was front and centre. Getting it right requires constant practice, upskilling, research and knowledge sharing to avert disaster.
As part of our presentation we highlighted the misunderstanding of the term CatScan – while designed to be humorous it does highlight how real disasters occurred in the steel industry (aerospace and nuclear plants in particular). There were disasters and near disasters highlighted in both of these industries (and these were from people doing this NDT work at least 5 days from 7/week)
For instance: Understanding what you are looking for …
And how to interpret the technologies you are using
Is this really what we are looking for in a cat scan???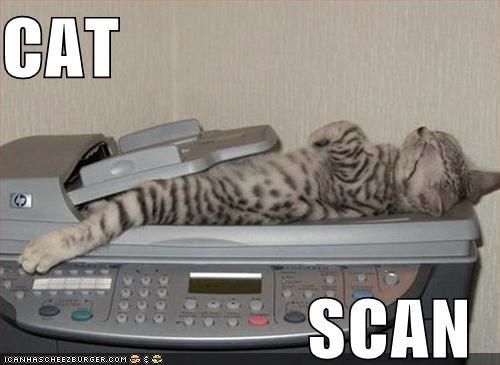 That's all from CSI this month; the Conference has given all of us in NDT Concrete much to work towards.
 We hope the work is rolling in for all of our customers and that you are looking forward to a nice Easter Break (don't spare the chocolate eggs and hot X buns!!).  😊
If you would like to find out more about the Non-Destructive Services (NTD) that we offer click here!
Or Click here for a list of our services.
Call Us On 0800 33 77 67 Or Request a Quote Here.