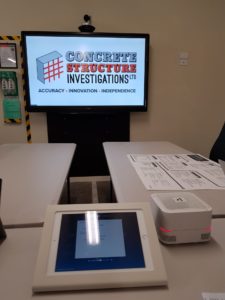 The start of a new year is a great time to put some plans in place for your personal and professional development. Like many quality companies, CSI places high importance on the professional development of our team and throughout 2020 we are planning to hold In-house staff training days on a monthly basis. Due to business time commitments, there are times when these will need to be managed alongside the commercial demands that fill up our timetables!
However, it's important for us at CSI to make team training a priority to ensure we continue to develop our skills and perform at a high level for our clients. The use of technology such as video conferencing helps to manage the teams time with staff in both Wellington and Auckland.
As we look to uncover and develop technologies that will help engineer's investigate the buildings in their charge; we brainstorm as a team:
What is already available?
What we need to research and/or refine?
What we may need to develop?
The team at CSI also share 'tips and tricks' within the technologies already in use. Often people will have unique and effective approaches to data collection and by sharing this knowledge they raise the efficiency of others in the team
Most recently, we learned some valuable information from another scanner provider as we were keen to find out what their equipment could do. This was in an effort to see what else is out there in the market and how we can expand the range of what our scanners can achieve. In this case, we were particularly looking at scanners that can penetrate to greater depths while keeping the data resolution clear enough to interpret and report on. We were also looking at scanners that can get into very tight spaces; for example at a 90-degree angle where the floor meets the wall.
Providing training is an integral part of our research and development program; which takes up a sizeable chunk of our yearly outlay. While it would be marvelous to have the whole team working on new developments with Callaghan Innovation, this is not feasible. Consequently, our CSI Wellington R & D Leader, Daniel Traeger, does most of the "coal face work". However, other members of the team work with Callaghan from time to time. Also, Daniel runs the training day programs once achievements have been made so that all of the team can come up to speed.  Daniel has recently completed training in Europe with manufacturers of Ultrasonic, so he has definitely learned from the experts.
Our upcoming training this month is an intensive session all about the use of ultrasonic devices. A big part of training is competency on-site and as part of our quality control, new staff are not given sole site status until they have been able to demonstrate competency over a range of challenges. This site competency process usually takes about 3 months, however the report writing training takes considerably longer.
Training is an integral part of the business model at CSI and a vital tool for providing an excellent service to our clients. We would love to hear about your challenges in getting enough training into the schedule and budget.
And of course, if you would like some help or want to find out any information about our services please feel free to contact the CSI team
Email:
Phone:
North Island – Central and North, Auckland: 0800 33 77 67
Greater Wellington region and South Island: 0800 30 20 20